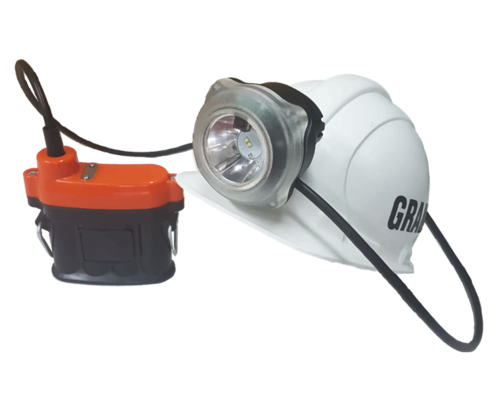 SBGPS Light is a personal device with the functions of the headlight. Through a wireless link, the device continuously communicates with the server.
The headlight case is made of impact-resistant material and meets the requirements of GOST for external influences to this class of devices.
Certificate of conformity TR CU № RU C-RU.АА87.В.00528
The basic functions:
- lighting;
- transmitting information about the location of the miner;
- gas measurement, with the real-time transmittion of data to the supervisor's console;
- display of date, time and service information;
- alarm for exceeding the permissible level of methanee;
- voice warning of a miner about dangerous situations;
- remote control of a person's physical condition.
---
Specifications:
The device communicates with the base stations via a wireless channel in accordance with the IEEE 802.11 b/g/n/i standard.

The maximum illumination from the main light source at the end of the useful period of continuous operation at a distance of 1 meter is not less than 1500 lux;

The time of continuous operation without recharging in the main mode is not less than 10 hours;

Time of continuous operation in the search mode (after 10 hours of operation in the main mode) - at least 36 hours;

Level of explosion protection in accordance with GOST 31610.0 - special explosion-proof electrical equipment with RO marking Ex ia I Ма Х;

Dimensions:
− headlights - not more than 91 x 88 x 80 mm;;
− battery pack - no more than 170 (210) х 48 х 148 mm;
− the length of the cord is not less than - 1470 mm

Weight - no more than 1,5 kg;

MTBF - 10,000 hours;

Service life - 5 years.

---